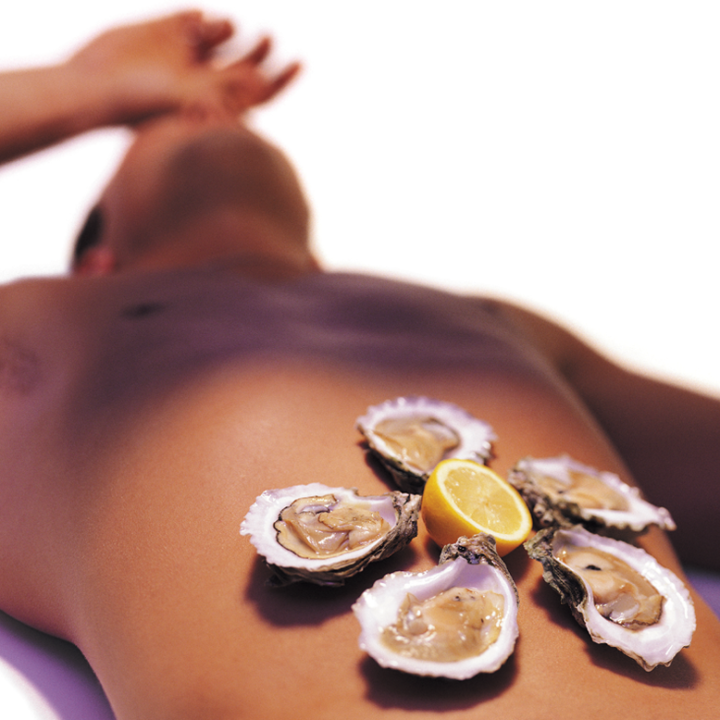 Yield:

2 main course servings or 4 appetizers
Fried Oyster Salad with Rémoulade Dressing
Sexy, succulent morsels
"The last time Ted shucked oysters was at a friend's house over the holidays. Every guest cooed by his side, amazed at his strength, like he was the only man on the planet who knew his way around a bivalve. Remembering that, I was tempted to buy fresh Fanny Bays, but in a time crunch, I bought a jar filled with huge, almost fist-size beasts. I wanted to cut them into smaller pieces; he wanted to bite into the full-figured meats. We opted for big pieces, to keep the sexy bellies intact, so we had something juicy to taste. Mixing the slippery oysters with my hands was the first turn-on. The second: watching him fry them up in a pan." Lesley and Ted, 10 years and counting, Pasadena, CA
Ingredients
2 pinches cayenne pepper, or more to taste
For the rémoulade dressing
1⁄2 cup mayonnaise
1 tablespoon coarse-ground mustard
1 tablespoon minced shallot
1 clove garlic, minced
2 teaspoons capers
1 teaspoon Worcestershire sauce
Tabasco to taste
1⁄8 teaspoon anchovy paste
Salt and freshly ground black pepper to taste
1 teaspoon Champagne vinegar
Milk or buttermilk, if needed
For the Salad
1 bag organic field greens, washed and spun dry
2 lemons, quartered
For the oysters
Grapeseed oil for frying
12 to 16 fresh oysters (about 1 cup shucked)
Salt and freshly ground black pepper to taste
Tabasco to taste
1⁄2 cup cornmeal
3 tablespoons flour
2 pinches cayenne pepper, or more to taste
Instructions
For the rémoulade dressing, combine all the ingredients in a small mixing bowl. Taste and add more Tabasco, salt, and pepper as needed. If the dressing seems too thick, add a bit of milk until the desired consistency is reached. Cover and chill until ready to use.

For the oysters, preheat the oven to 200 degrees to keep the finished oysters warm.

Fill a large, heavy saucepan with enough oil to come halfway up the sides. Warm over medium-high heat to 350 degrees, or until a flicker of flour sizzles when it hits the grease.

Cut each oyster in half or thirds for manageable bites. Season with salt, pepper, and Tabasco.

Mix with your hands to distribute the seasonings. Combine the cornmeal and flour in a shallow bowl. Season with more salt and pepper, and add the cayenne. Stir to combine.

Dredge each oyster piece in the cornmeal mixture and set into the hot oil. Cook 2 to 3 minutes, or until perfectly crispy on the outside. Drain on paper towels. Keep warm in the oven on a wire rack set over a baking sheet until ready to use.

To assemble the salad, place the lettuce in a large mixing bowl and add several tablespoons of dressing. Gently toss with your hands to coat the leaves. Add more dressing as needed, but do not over-dress. Place a large handful of leaves on each salad plate, scatter with the fried oysters, and garnish with fresh lemon wedges. Serve any extra dressing on the side.