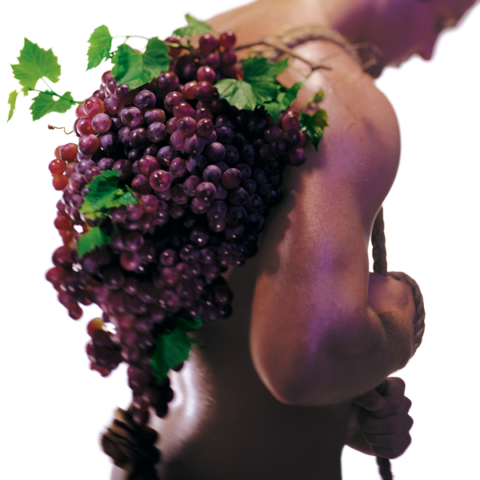 Yield:

2 servings
Grapes Rolled in Almonds and Ginger
Addictive, pop-in-your-mouth spheres
Concerning these voluptuous jewels, Jim wrote, "Laurel said this one was fun — need I say more? If we can get her smiling, the road to ecstasy is not far away." (Especially if you can find all the ingredients quickly, as may not be the case for those unfamiliar with crystallized ginger. Also known as candied ginger, it is ginger that has been saturated and coated with sugar. You can find it in most supermarket produce, spice, or bulk sections.)
Ingredients
1⁄2 cup whole almonds, toasted
1 (3-ounce) package cream cheese, softened
1 tablespoon finely chopped crystallized ginger
15 to 20 seedless grapes, washed and thoroughly dried
Instructions
Chop the toasted almonds finely or grind in a food processor.
Blend the cream cheese and ginger in a bowl with an electric mixer. Stir the grapes into the cream cheese mixture to coat.
Roll the grapes in the ground almonds. Place on a waxed-paper-lined plate and chill until firm.